Benefit from our special offer towards students
What is Web Hosting for Students?
As the number of computer science classes and online education opportunities are on the rise, students now often require a web hosting service to create their projects. Whether you're learning how to code, want to communicate with students online, or need to build your professional online presence, you would need a server to upload your project files to so that they are publicly accessible worldwide.
If you are a student, the chances are that you most likely cannot afford the price for purchasing a Premium Hosting Plan. To help you get started, we are offering not just an affordable hosting plan, but one that is FREE to use during the first year!
As long as you are enrolled in an educational program, you will be able to use our student hosting plan cost-free during the first year. You must be able to provide documentation to support enrollment in the university.
The best thing about the Web Hosting for Students plan is that even though this service is cost-free during the first year, you will still receive the same features and service quality that come with our premium hosting plans.
Web Hosting For Students
FREE of charge
for students for one year
during their studies
~ 15 000 visits monthly
Unlimited disk space
Unlimited monthly traffic
Free SSL & HTTPS
24 х 7 Support
Automatic CMS Installer






Apply Now!
What is Included?
Web Hosting for Students Features.
Free domain
Create a free subdomain and use it for as long as you like. You can add up to three free subdomains which you can use for your school projects, online CV or digital portfolio websites.
99.9% network uptime
As with our our premium hosting plans, the unlimited web hosting for students comes with 99,9% uptime guarantee. We continuously optimize our free servers for speed and reliability.
Easy to get started
Our hosting control panel is designed to be user-friendly and give you quick access to all functions. To build your website as quickly as possible you can use our automatic 1-click installer, which includes popular CMS platforms such as WordPress, Joomla and others.
Web based file manager
You can easily upload and download your website files to your hosting disk space using our intuitive web-based File Manager. This tool will also enable you to edit HTML, CSS, PHP and other file types in your browser without the need to install any specialized software.
Email account
With our hosting plans, you will be able to create your own email account for your domain name. Using an email account with your own domain will make it look professional, and you can use it for your CV website.
Help & Support
To make it as easy as possible for you to create your first website, you will have at your disposal our knowledge-base section, which includes step-by-step tutorials and video guides.

Our customer support team is here to help
24/7 Customer Support.
If you feel that you need real human help, you can reach our dedicated support team. We are here for you 24/7 through trouble tickets, emails and live chat and ready to help! You are welcome to ask us any tech questions in case you are facing problems.
We are here to assist you with the installation of your website or any technical issues you may encounter so that you can focus on your course essentials.
What makes this service great?
Advantages of Web Hosting for Students.
Free service during the first year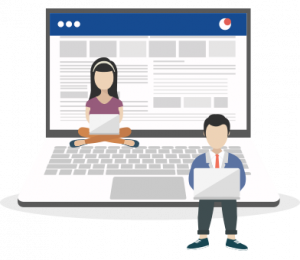 Free Let's Encrypt SSL Certificate
Free services to those in education
Promoting Hosting for Education.
Questions You Might Have
Web Hosting for Students FAQ.

Where Ideas Turn Into Websites